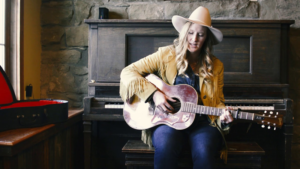 Marcedes Carroll is a Southwestern Montana musician. With guitar in tow she bends Americana melodies to her stylistic storytelling.
From a young age singing lullabies to her brothers cradled in the Rocky Mountains, to her adult years telling stories in dimly lit bars, Marcedes Carroll has found her voice best behind a guitar. It's no secret that hard work and tenacity will get you far, especially in the music industry. Coming from a long line of weathered Nordics, who have eventually found their way to the rugged landscape of Southwest Montana, she has a bloodline of stories to tell.
Marcedes Carroll released her debut record ​She's Pretty​ in the Fall of 2019. "She's Pretty" ​is a collection of songs that encompass life, love and loss in the American West. Countless hours have been spent writing, charting, rehearsing and performing songs that reflect a passion for the poetic experiences she herself and others have gone through. This album will introduce the people and places of Montana and show you a glimpse of the world through her heart.
https://www.marcedescarroll.com
Listen to Marcedes